Intranet software for employees
Get your intranet up and running in days with the Communifire

Lightning Launch

.
During times of crisis, every company needs a way to communicate and stay connected. The Communifire Lightning Launch will get your intranet up and running within days.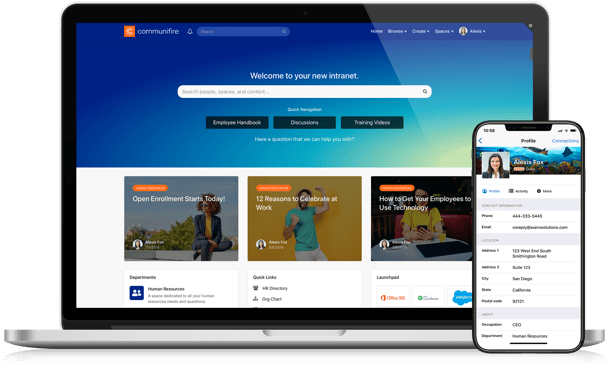 How Communifire helps you during challenging times:
One home base to log into - Your employees have one easy-to-use hub to find important information, resources, people, and announcements.
Communicate to your entire company - Send company-wide announcements to everyone and know that your internal communications get received, read and acted on.
Increase productivity - All critical information and resources are in one place so your employees can stay on track.
Unite your employees - Keep your employees connected to crucial information and resources they need to do their jobs, no matter where they are.
What this looks like:
Homepage - We'll design and build out a homepage for you to share important announcements, links to resources, and a launchpad to other platforms.
Importing your content - We'll help you import your mission critical content into your intranet.
Single sign-on, people directory, and profiles - You'll have a rich employee directory and personal profiles, so everyone can find each other.
Feature training - A dedicated Customer Success rep will make sure you are comfortable using the features that matter most.
Support community - Get fast answers to your questions in our Support Community—we're available 24/7.
"Communifire connects our 3500+ employees from 16 countries in 42 different offices, and it's like we are all working from the same room."

— Ei Ei Thu, Digital Strategist, Phillip Capital
"We use Communifire across our entire organization (900+ employees). The customer service hooked us — quick, honest and reliable. Staff can now easily & quickly locate resources, information, staff members, and company knowledge."

— Wade Dixon Internal Communications Lead, Evocca College
Trusted by the world's top brands.